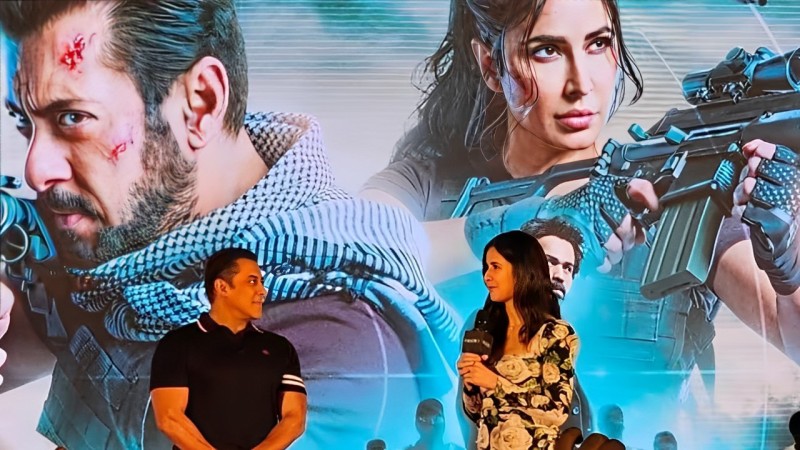 Salman Khan's Hilarious Reaction to 6 AM Shows of Tiger 3: "Wo Mujhse Miss Ho Jayega"
Salman Khan's witty response to early morning shows of Tiger 3 left the audience in splits. The highly anticipated action-thriller is gearing up for its release, and the excitement is soaring.
As the countdown to the release of Tiger 3 draws to an electrifying close, the excitement among fans and movie enthusiasts is reaching a fever pitch. Starring the dynamic duo of Salman Khan and Katrina Kaif, this action-packed thriller has been a highly anticipated addition to the Tiger franchise.
In a unique turn of events, Tiger 3 has sparked a buzz with its early morning showings, some even as early as 6 a.m. During a special Tiger 3 event hosted by Yash Raj Films, Salman Khan, who reprises his role as Avinash Rathore aka Tiger, was asked about his reaction to these early shows. His response left the audience in splits.
With his characteristic humor, Salman Khan quipped, "Wo mujhse miss ho jayega," which translates to "He'll miss it without me." This lighthearted comment elicited peals of laughter from the audience, further fueling the excitement surrounding the film.
However, Salman didn't stop there. He playfully added that he can manage 6 a.m. shows but, after 7 a.m., he is unable to even take a flight, let alone watch a movie. His witty response showcased his endearing charm and had the audience cheering in amusement.
While Salman's remarks added an element of humor to the event, recent reports suggest that Tiger 3's runtime has been extended. Originally planned to be 2 hours, 33 minutes, and 38 seconds long, the film will now run for 2 hours and 36 minutes. Speculation is rife that this additional footage may feature Hrithik Roshan as Kabir, reprising his role from "War," alongside Colonel Luthra, portrayed by Ashutosh Rana. Moviegoers eagerly await the film's release to confirm these exciting speculations.
In parallel news, Tiger 3 has witnessed a surge in advance bookings, particularly in the USA and Middle East regions. According to trade analyst Nishit Shaw, the film could set new records with its opening in the Gulf. The last film to achieve such stellar advance bookings in the Gulf was "Leo," starring Thalapathy Vijay, in 2023.
As Tiger 3 gears up for its grand release, it's evident that the film has generated remarkable anticipation and enthusiasm, promising an action-packed and entertaining experience for moviegoers.