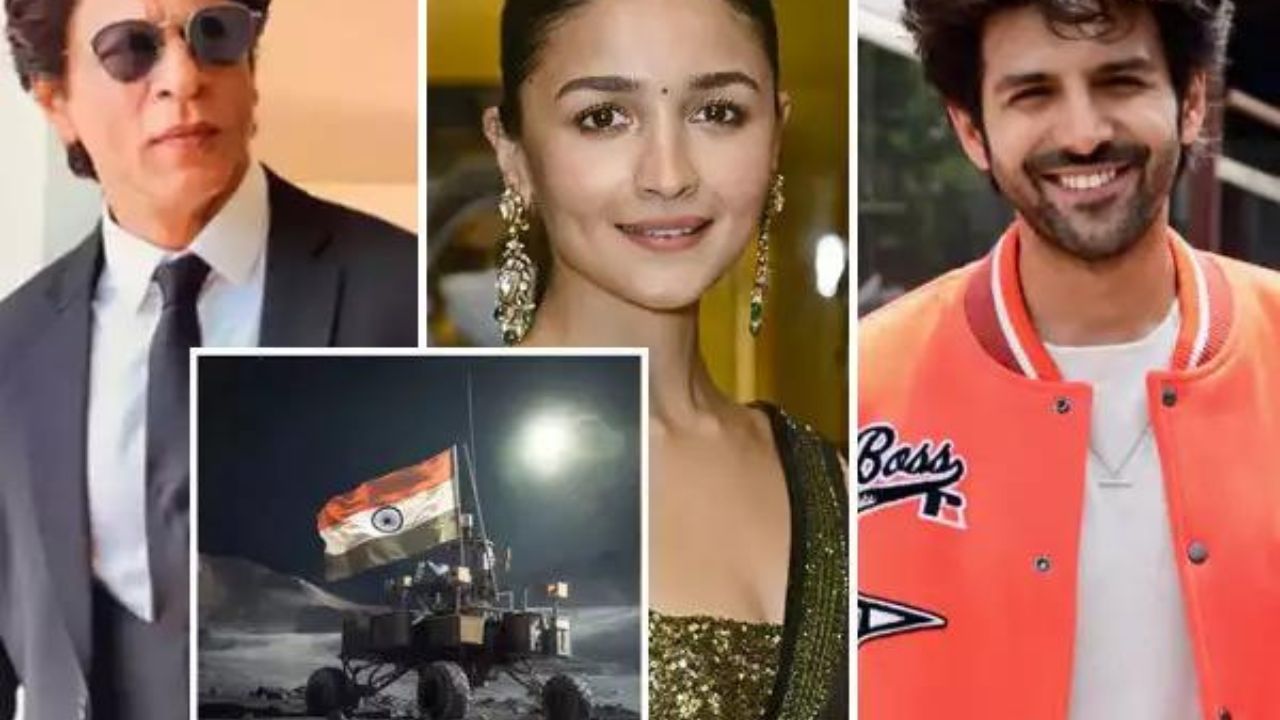 Chandrayaan-3: Shah Rukh Khan, Karan Johar, Anushka Sharma, and Kartik Aaryan, amongst other celebs who celebrated the historic moment.
India's Chandrayaan-3 rover landed successfully on the moon. Many celebrities congratulated ISRO and celebrated the moment.
India celebrated a history-creating moment when its Chandrayaan-3 rover successfully landed on the moon.
Shah Rukh Khan shared a picture of the Chandrayaan-3 landing on social media and wrote, "Chaand Taare todhlaoon…. Saari Duniya par main chhaoon. Aajindia aur @isro chhaagaya. (India and ISRO have done it today). Congratulations to all the scientists and engineers…the team that has made India so proud. Chandrayaan-3 has successfully soft-landed on the moon. #Chandrayaan3."
Akshay Kumar wrote on his social media Stories, "A billion hearts saying THANK YOU ISRO. You've made us proud. Lucky to be watching history. India is on the moon; we are over the moon. #Chandrayaan3"
On his social media Stories, Karan Johar wrote, "A historic day for India today as #Chandrayaan3 lands on the moon. Thank you to @ISRO.IN and the entire team for working passionately to make us all believe that no dream is too far…even the moon! Jai Hind! (Tricolor emoji)."
Anushka Sharma shared a pic on her social media stories and wrote, "Such a proud moment (tricolor emoji). Historic (three applause emojis). Congratulations, @isro.in you make us proud (applause emoji), and congratulations every Indian (tricolor emoji)." She then posted a picture of the ISRO team from a news channel and labeled them "The Stars (star emoji)."
Kartik Aaryan wrote, "OUR INDIA IS NOW ON THE MOON 🇮🇳 #Chandrayaan3 HISTORIC MOMENT!! Thank you @isro.in (white heart emoji)."
About Chandrayaan-3
Chandrayaan-3 mission was launched by the Indian Space Research Organization (ISRO) on July 14. The spacecraft was launched from the Satish Dhawan Space Centre in Andhra Pradesh's Sriharikota.