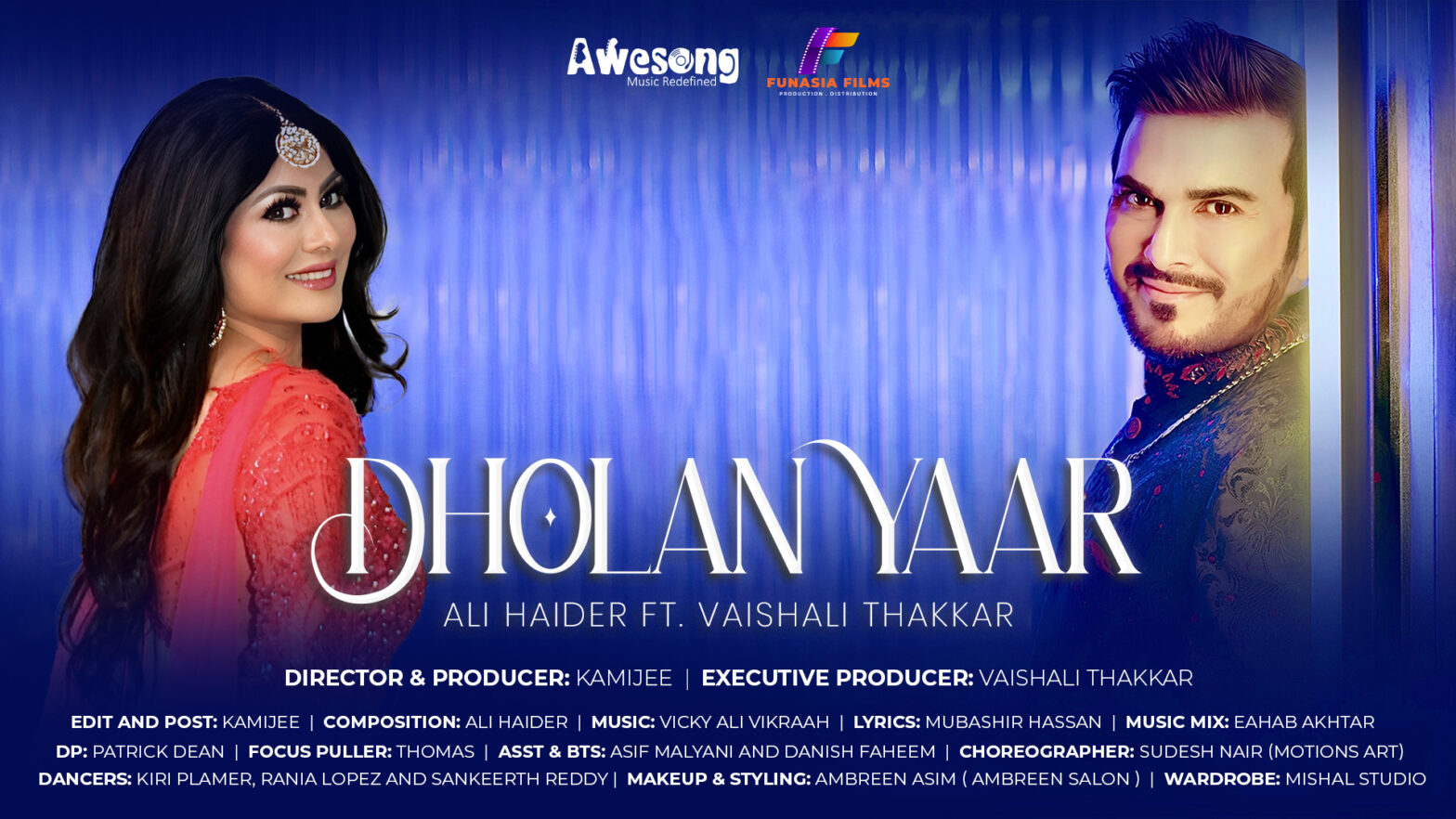 Ali Haider's Mesmerizing Melody: 'Dholan Yaar' – A Romantic Pop Song Featuring Vaishali Thakkar
In a truly remarkable collaboration, the highly anticipated video "Dholan Yaar," featuring the esteemed and world-renowned artist Ali Haider, has been expertly crafted under the skilled direction of the highly experienced filmmaker and exceptional Music Director, Kamijee. Set to be released on September 29th, 2023, this video promises to be an enchanting blend of groovy beats and romantic melodies, a captivating feast for the senses.
The enthralling narrative of "Dholan Yaar" came to life in Dallas, courtesy of Funasia Films and Production, a prestigious production house known for its unwavering commitment to delivering top-tier visual experiences.
Adding to the allure of "Dholan Yaar" is the ethereal presence of the talented Vaishali Thakkar, who, in addition to her role as the CEO of Funasia, also serves as the Executive Producer. Vaishali's graceful and charming portrayal perfectly complements the video's romantic theme, creating an emotionally evocative connection that is sure to enthrall viewers.
"Awesong" an acclaimed record label renowned for its dedication to promoting exceptional musical talent, takes immense pride in presenting Ali Haider's "Dholan Yaar" as part of the esteemed Funasia Digital platform. This collaboration between Ali Haider, Awesong, and Funasia Digital holds the promise of an audiovisual masterpiece that will resonate deeply with audiences worldwide.
The video exhibits excellence in every aspect, from its artistic cinematography, crafted with meticulous attention to detail, to the seamless expression of Ali Haider's unique style and distinctive vocals, leaving an indelible impact on global audiences.
Prepare to be utterly captivated on September 29th, 2023, as "Dholan Yaar" takes audiences on an unforgettable journey of love and longing. The soulful melodies of Ali Haider, the enchanting presence of Vaishali Thakkar, Kamijee's masterful directorial finesse, and the creative brilliance of Funasia Films and Production, in collaboration with Awesong as part of Funasia Digital, coalesce to create an all-encompassing and captivating audiovisual experience. This video stands as a testament to the enchanting magic of artistic collaboration, offering a celebration of love and music that will resound deeply within the hearts of audiences around the globe.
FYI: Audio is releasing on 25th September 2023 at all the major digital platforms under Awesong Record Label.