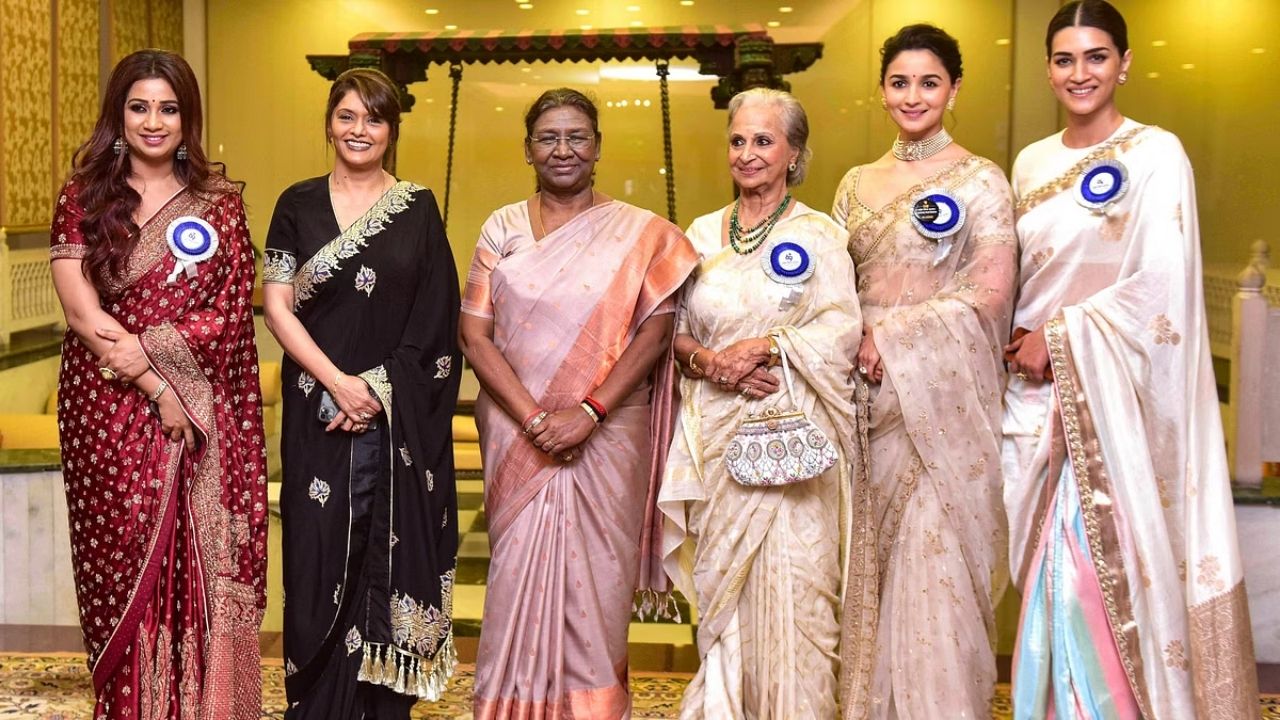 Waheeda Rehman Honored with 'Dadasaheb Phalke Award' at the 69th National Film Awards
Waheeda Rehman receives the prestigious Dadasaheb Phalke Award at the 69th National Film Awards, accompanied by Best Actress winners Alia Bhatt and Kriti Sanon. Discover the star-studded event and the memorable moments shared at the ceremony.
Waheeda Rehman Receives the Dadasaheb Phalke Award: A Night to Remember
In a star-studded evening in Delhi during the 69th National Film Awards ceremony, a moment of unparalleled significance unfolded as the legendary actress Waheeda Rehman was honored with the coveted Dadasaheb Phalke Award. The event was nothing short of spectacular, and Waheeda's recognition was marked by a standing ovation, underlining her remarkable contributions to Indian cinema.
A Picture-Perfect Moment
A heartwarming picture from the ceremony has taken social media by storm. In this captivating frame, we see Best Actress awardees Alia Bhatt and Kriti Sanon, alongside Best Supporting Actress winner Pallavi Joshi, sharing the limelight with the Dadasaheb Phalke Award recipient, Waheeda Rehman. The image is a testament to the legacy of Indian cinema and the union of past and present talent.
In the photo, Kriti stands beside Waheeda, radiating grace and admiration. On the other side, Pallavi and Alia beam with joy for the camera. It's a moment that celebrates the artistry and the talented individuals who have graced our screens over the years.
The Winners' Circle
Alia Bhatt and Kriti Sanon were jointly awarded the Best Actress accolade for their stellar performances in 'Mimi' and 'Gangubai Kathiawadi,' respectively. Meanwhile, Pallavi Joshi received the Best Supporting Actress honor for her outstanding work in Vivek Agnihotri's 'The Kashmir Files.'
In another captivating moment, a picture captures Waheeda Rehman alongside Alia Bhatt, her husband and acclaimed actor Ranbir Kapoor, and Best Supporting Actor winner Pankaj Tripathi. The image reflects the essence of camaraderie and respect that binds the Indian film industry together.
A Radiant Alia Bhatt
Alia Bhatt, the epitome of grace, wore a stunning white wedding saree for the prestigious occasion. She arrived at the ceremony with Ranbir Kapoor, who couldn't help but capture the memorable moment on his phone as Alia accepted her award.
A Historic Moment
The evening also saw the historic win of Telugu superstar Allu Arjun, who became the first Telugu actor to clinch the Best Actor award for his outstanding performance in 'Pushpa: The Rise.' This win marked a significant moment in Indian cinema, highlighting the growing influence and recognition of regional cinema on the national stage.
In conclusion, the 69th National Film Awards ceremony was a night filled with unforgettable moments, heartfelt applause, and a recognition of talent both old and new. Waheeda Rehman's receipt of the Dadasaheb Phalke Award and the camaraderie displayed among the award winners remind us of the enduring magic of Indian cinema.